Motorola Moto G10: Elegance and Functionality at an Accessible Price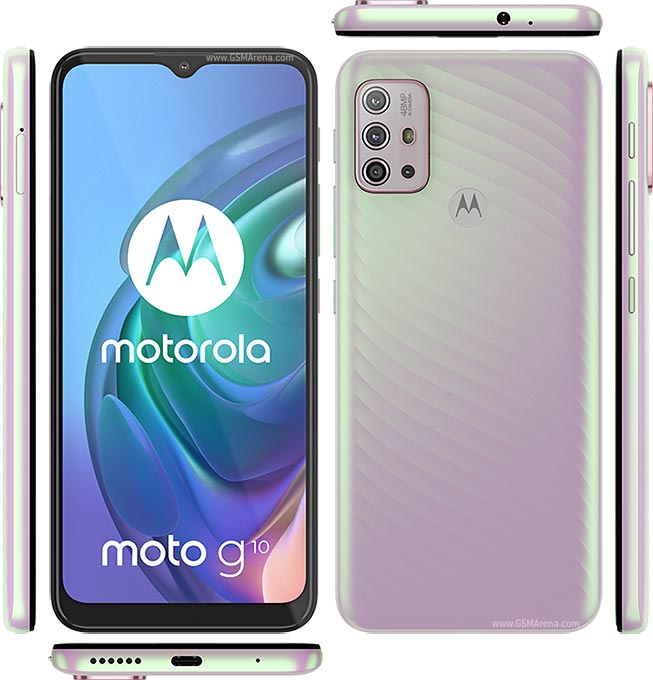 In the ever-evolving world of mobile technology, Motorola introduces its latest contender: the Moto G10. While it may not be a high-performance smartphone, its combination of features, sleek design, and an affordable price tag make it a worthwhile option for those seeking a reliable mobile device without breaking the bank.
Design
The Moto G10 takes the baton from the Moto G9 Play and elevates it in terms of design. While they share similarities in screen size and resolution, the G10 stands out with its iridescent-looking casing available in Aurora Gray or Sakura Pearl.
This shimmering effect catches the eye and gives it a sleek and modern appearance. Additionally, Motorola has added a wavy surface texture that is not only visually appealing but also pleasant to the touch. It feels like a quality device in hand, giving you the impression of holding a more expensive handset.
Connectivity and Software
In terms of connectivity, the Moto G10 offers familiar features. With 64 GB of eMMC flash storage and 4 GB of RAM, it remains sufficient for most tasks. The inclusion of NFC enables contactless payments, a modern touch for a more convenient user experience.
Regarding software, the phone comes with Android 11 and Motorola's MyUX interface, which adds a layer of customization while preserving the essence of Android. Although the operating system may not be up-to-date in terms of security patches, the cleanliness of the software and customization capabilities are highlights.
Camera
One of the notable improvements of the Moto G10 compared to its predecessor is the inclusion of a wide-angle camera. This gives users the ability to capture wider and more creative shots, adding versatility to the photography experience.
The main camera remains solid overall but doesn't quite reach the highest standards in terms of detail and exposure in certain situations. Video recording is possible in 1080p at 60 fps, although image stabilization is not available in this setting.
Performance and Battery Life
At the heart of the Moto G10 is the Qualcomm Snapdragon 460, a processor that offers enough power for everyday tasks but may fall short in more demanding applications. Although not the latest chipset, it manages to keep up with other devices in its price range.
The battery life, with its 5,000 mAh capacity, is commendable, providing over 17 hours of moderate use in Wi-Fi tests. However, the included 10-watt charger may feel a bit slow for a full charge.
Verdict
In summary, the Motorola Moto G10 presents an appealing proposition for those seeking a balance between style, functionality, and price.
With respectable battery life and the convenience of NFC, the Moto G10 offers a satisfying experience at an accessible price. If you're looking for a reliable phone that doesn't compromise on style or functionality, the Moto G10 deserves your consideration.