The Impact of Dirt Bike Graphics on Your Bike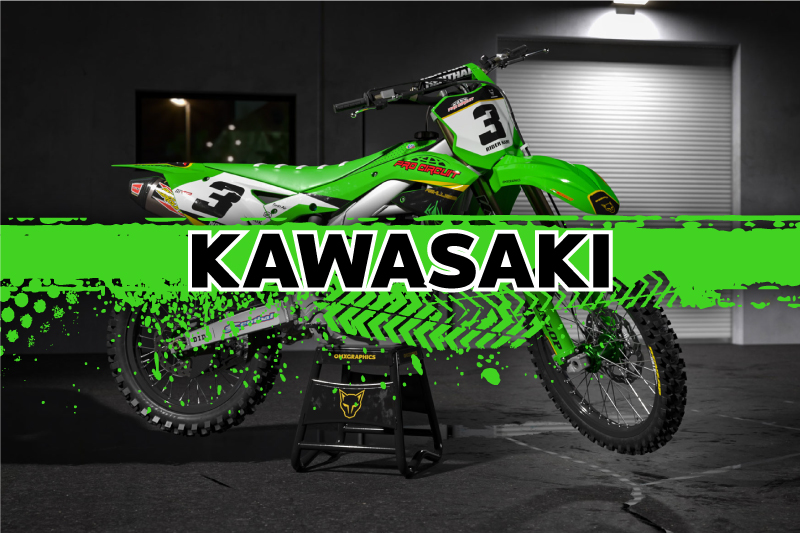 Motocross is a popular yet the most demanding sport in the world. What makes this game competitive and unique is the rider's ability to control a heavy dirt bike while maintaining the speed through hills or mud. With these adventures, good riders always ensure that their bikes look perfect and fresh and this is where dirt bike graphics come on to the stage!
If you are looking for a custom graphic kit, keep scrolling your finger because this article is for you! This blog covers the details of dirt bike graphics, how they are made, installing tips and their impact on your bike. So, let's begin!
What Are Dirt Bike Graphics?
Motocross graphics are colourful and vibrant decals on dirt bikes for an attractive look. They are available in various colours and designs, making dirt bikes look cool. The graphics add style and protect your bike plastics from scratches and dirt.
What Are They Made Of?
We at OMX Graphics use only Substance material – the industry-leading print media for manufacturing MX bike graphics. The graphics are specially crafted from state-of-the-art technology to deal with the harsh conditions during the game. The finest material of the graphics ensures the vibrant colours and durability of the bike and maintains its exceptional adhesive quality. Every detail matters as we consider capturing the essence of your riding experience while manufacturing the graphics.
At OMX Graphics you will find only the best quality motocross graphics!
How to Install Dirt Bike Graphics?
Follow the below steps for applying dirt bike graphics:
Step 1. Before starting the process, make sure you have everything you need for installing graphics, such as a paper knife or scissor, adhesive paper tape, heat gun or hair dryer, alcohol-water mixture or degreasing agent and squeegee
Step 2. Inspect the plastics of your dirt bike carefully. If you find any scratches, scuffs or significant damage, consider replacing them. Moreover, before installing, ensure the plastic is in good condition.
Step 3. Take the graphics and place them on your dirt bike's plastics. Use adhesive paper tape to secure them; then, tape them so the decals stay in one place.
Step 4. Now peel off the backing paper from the background, and cut it off when you reach the middle. Ensure to peel it carefully and check the alignment on the part you cover. After that, touch the graphic from its find side to secure it in place.
Step 5. You will not want any wrinkles or bubbles in your graphics; therefore, apply pressure to the graphics using a squeegee or thumb to avoid any bubbles. Apply pressure from the centre and work outward. If you see any bubbles, lift that part and retry it carefully. You can use a safety pin to remove air bubbles.
Step 6. In case of sharp curves in the plastic, use a heat gun or hair dryer to make the dirt bike graphics more pliable. Ensure not to overheat!
Step 7. Trim extra sections of the motocross bike graphics covering access holes, cover bolts or vent slits. It is recommended to use a paper-knife for this task.
Tips for Installing Dirt Bike Graphics
To get excellent results from your applied dirt bike graphics, use the following tips:
While installing graphics, be patient with yourself, as the process is not as complicated as it may seem.
It is essential to wash your hands before you start the application process. Dirty or oily hands reduce the ability to properly adhere to dirt bike graphics.
Before installation, keep plastics and your dirt bike at more than 15°C / 60 ºF.
Avoid riding your dirt bike at least 24 hours before the installation to get the desired bonding.
How Dirt Bike Graphics Impact Your Bike
Besides giving your dirt bike a new and fresh look, dirt bike graphics contain many benefits that positively impact your bike's functions. Let's have a look below:
Protect from Wear and Tear
One most crucial jobs of dirt bike graphics is protecting your bike from scratches or significant damage. They act as a shield and protect the paint and plastics from cuts, scratches, etc. The graphics are worthy of preserving the front forts of your bike.
Dirt bike graphics are vital in preventing dirt bikes from dirt and mud. Most parts of the bike are plastic, which attracts dust and debris, but the smooth finishing of graphics doesn't let the dust cover up the plastics, keeping your bike cleaner and lighter.
Protect from the Ultra Violet Rays
Another purpose of using dirt bike graphics is to protect your bike's plastics from the harmful sun rays. Sunlight slowly deteriorates the plastic over time and takes away the shinness of the bike. Dirt bike graphics act as a barrier and block sunlight, providing bikes long life.
With the help of graphics, a gripping level can be adjusted in the areas where the bike rider comes across the dirt bike. For example, you may have seen dirt bike riders sticking abrasive material in the areas where their boots interact with the bike's frame. This increases the friction, making it easier for the riders to maintain their posture throughout the game.
Wrap Up
Dirt bike graphics are more than just stylish accessories for MX lovers as they can easily install their favourite graphics on their bikes following the tips mentioned above. Furthermore, by understanding the impact of dirt bike graphics on their bikes, riders will seek more practical ways to prevent them from dirt, scratch or damage. Furthermore, you can get quality graphics, stickers and stickers from us as we offer multiple options for premium graphics that reflect your style and personality.