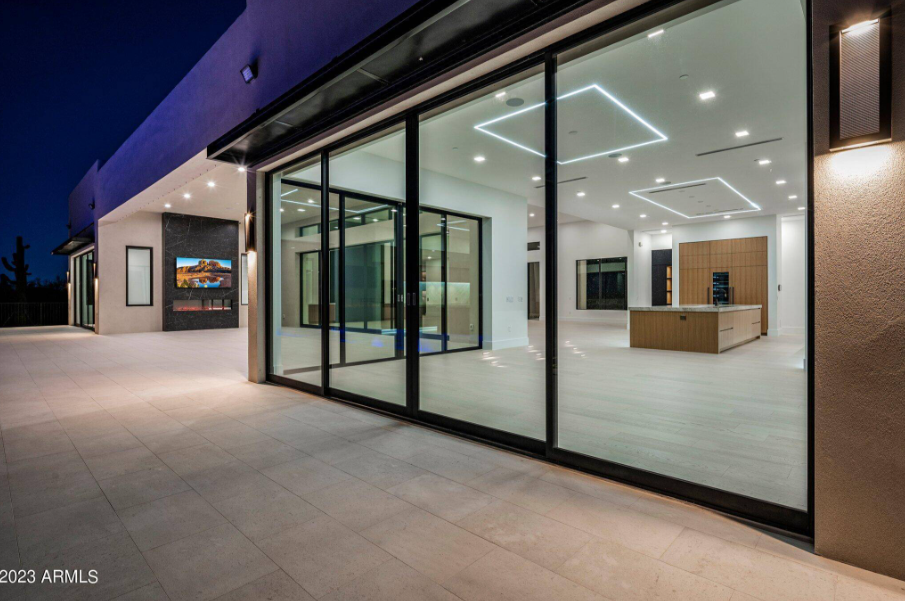 Content:
The modern real estate market is filled with remarkable homes that push the boundaries of architectural design and redefine luxury living. Nestled in the picturesque landscapes of Carefree, there is a brand-new single-level modern masterpiece that stands out among its peers. This extraordinary property, situated on a 1.6-acre mountainside estate lot, showcases stunning architecture, breathtaking views, and high-end finishes that will captivate even the most discerning buyers.
Represented by Luxury Real Estate Agent Mike Domer with Launch powered by Compass, as you step inside this 6,501-square-foot oasis, you are immediately greeted by the grandeur of the great room. With its soaring 16-foot high ceilings and expansive 30-foot wide glass pocket doors, this space effortlessly merges the indoors with the outdoors, offering a seamless transition and an abundance of natural light. The modern fireplace, adorned with porcelain slabs, adds a touch of elegance and warmth to the room, creating a perfect ambiance for both relaxation and entertainment.
One cannot help but be entranced by the walls of 10-foot glass that frame the awe-inspiring views of Black Mountain, the Boulders Resorts golf course, and the surrounding natural beauty. These panoramic vistas become an ever-changing work of art, painting the backdrop for your daily life and infusing each moment with a sense of serenity and wonder.
The European-style kitchen is a true culinary haven, designed to satisfy the most discerning gourmet. Featuring a 15-foot long island with a Taj Mahal quartzite leather finish, this space seamlessly combines functionality with aesthetic appeal. Miele appliances, sleek cabinetry, and thoughtful design details elevate this kitchen to a whole new level of sophistication. A large breakfast nook with sliding glass doors invites you to savor your morning coffee while basking in the gentle sunlight and enjoying the tranquil surroundings.
The indulgent primary suite is a sanctuary of relaxation and rejuvenation. Custom closets offer ample storage space, ensuring that everything has its place. The spa-inspired bathroom is a retreat unto itself, boasting luxurious finishes, dual vanities, a soaking tub, and a spacious walk-in shower. Every detail has been meticulously thought out to create an atmosphere of indulgence and tranquility.
For those who appreciate the importance of work-life balance, a spacious office with a sliding glass door to a private patio provides a serene environment for productivity. Additionally, a versatile room can serve as a gym, a game room, or even an additional bedroom, offering endless possibilities to suit your lifestyle.
Outdoor living is seamlessly integrated into the design of this exceptional property. A 14-foot high ceiling oversize covered patio, adorned with limestone floors, becomes an extension of the living space, inviting you to unwind and entertain while relishing the panoramic views. The one-of-a-kind custom negative edge pool and spa beckon you to immerse yourself in their crystal-clear waters, offering a private oasis where you can escape the demands of everyday life.
Technological innovation is also at the forefront of this modern abode. The Creston smart home system allows you to effortlessly control and monitor various aspects of your home, from lighting and temperature to security and entertainment.
With a 4-car garage featuring oversize doors, a large laundry room, and three additional bedrooms with en-suite bathrooms, this home caters to every need and desire.
This remarkable modern home in Carefree is a testament to exquisite design and exceptional attention to detail setting a new standard as the most impressive Real Estate ever on the market in Carefree, Arizona. From its stunning architecture and breathtaking views to its luxurious living spaces and high-end finishes, every element has been carefully curated to create a harmonious and unparalleled living experience. Step into this modern masterpiece and let yourself be captivated by its beauty and sophistication.
If you want additional information on this property visit: https://www.mikedomer.com/d8qwehfg
If you are looking to Sell your Carefree or North Scottsdale Luxury Home Click Here.